A Finnish manufacturer of packaging- and printing products
We manufacture such items as paper-plastic laminates with a focused window, multilayer- and other specialised stickers, casing products, business cards and a wide range of brochures and printed advertising products, and fold-out cards. We can print and process paper, cardboard, laminates and plastic materials. We work together, confidentially, with customers and material suppliers, developing new solutions and products for our customers' needs.
Let's move forward together — contact us!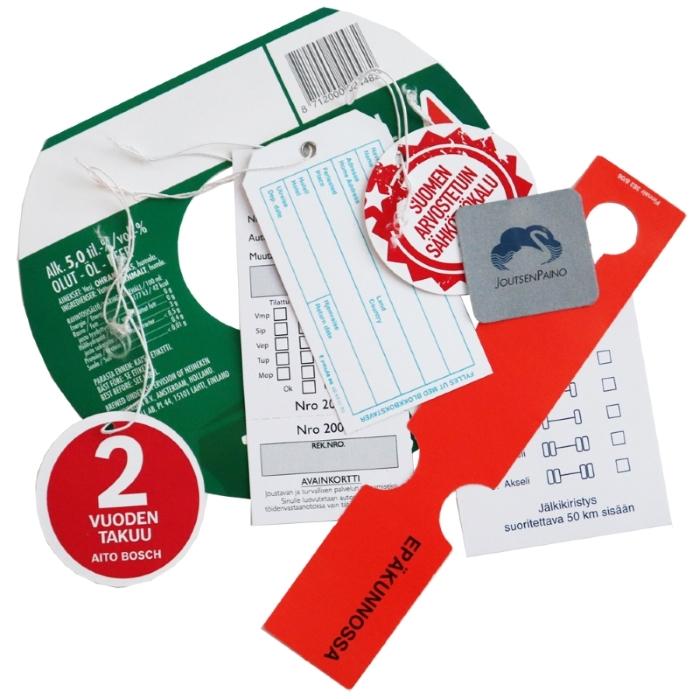 Special printing with professionalism
With our flexography processing line, we can print roll-to-roll, from a roll to smaller rolls or from a roll to sheets — single- or double-sided — or do multi-track printing on three surfaces. During printing, our on-line production can also do die-cutting, laminating, coating, siliconising and foiling. We process both fibre and plastic materials of up to 0.6 mm thickness.
With sheet-fed offset printing, we can print on both fibre and plastic material with normal offset- and UV colours.
Our post-processing includes cutting, die-cutting, press-through die-cutting, folding, stapling, sewing, different kinds of gluing for both paper- and cardboard products, and manufacturing of multi-material products. In our reproduction department, we can produce printing plates and printing blocks ourselves or in collaboration with other companies in the industry.
Business that Focuses on the Customer
According to our surveys, our customers are happy with our products. This is no surprise, because customers are the baseline for all our activities. Especial accolades have been given to our customer service, which we will continue to develop even further in the future.
Innovation
The packaging industry needs new products, materials and environmentally friendly solutions. We actively develop our business and help to create a society where packaging is more than just a necessity that ends up as waste immediately.
Family values
Aspelin Group is a family-owned business, and our values reflect it. We trust in the quality of Finnish work and stand firm behind our products and production. We will continue to develop our products in Finland and wish to be trailblazers in developing Finnish industry.
Quality
We wish to offer the best possible quality, both in our products and services. Continuous development and quality improvements are a part of our everyday activities. It is our wish that the top quality of today is the regular quality of the future.